Hum with the wind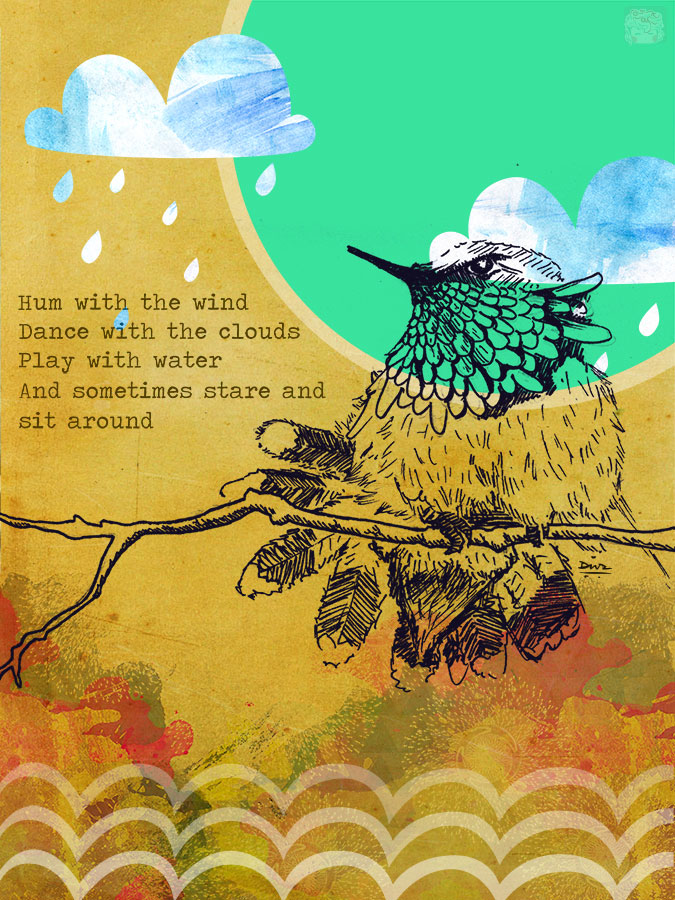 "Hum with the wind,
Dance with the clouds,
Play with water,
And sometimes stare and
Sit around"
This was a 2012 practice sketch which has finally come out of the black hole of sketches that need to be worked on.
Also a special dedication to my dear friend Priel Hackim. It's his birthday and he loves hummingbirds. Happy Birthday Priel. Hope you are enjoying your travels. Looking forward to all the new paintings and the art you have discovered on your travels this time! 😀
Amit Suvarna, special thanks for helping me out with the words.
Buy prints and other merchandise of my artwork – "Hum with the wind" on Cupick

Pen on Paper, Photoshop

Divya Suvarna, a random maniac, loves drawing, painting, designing and appreciating art in all forms. She is an avid music listener, so much that her headphones are often mistaken for her ears.

When she is not spewing her brains out working on freelance projects, she is looking out for visually appealing photos, videos and everything she loves.

Latest posts by Divya Suvarna (see all)